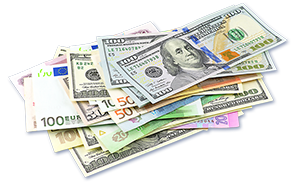 Below are our suggestions and tips about the currency exchange:
Don't leave it to the last minute
Speaking to an expert could be the difference between affording the property you really like or not. One of the first steps you should take, once you have decided to buy a property abroad, is contacting a currency specialist. That way you will have more chance of maximising your buying power.
Don't gamble your money
If your target exchange rate is available, take it. Otherwise, you could risk losing money.
Set a realistic budget based on the current market
Your currency dealer can help you mitigate risk explaining to you how currency markets may shift and the general direction of exchange rates, so you can plan your currency purchase and timing it right to make the most from your money.
Try to avoid purchasing currency at the low of the day
The difference can be significant and your currency dealer can help you with this.
Protect your money by setting up a forward contract
Set up a forward contract to lock-in the exchange rates, this allows you to protect your money by setting a rate now for a transfer in the future.
Check the interbank exchange rate.
The interbank exchange rate is the rate at which banks swap currencies between one another, it is the wholesale rate. On websites like bbc.co.uk and yahoo.co.uk, you can find out what the interbank exchange rate is, and also what is influencing the market.
Always get confirmation from your currency dealer that your money has been sent
Safety and security.
Choose a currency specialist who is authorised and regulated by the Financial Conduct Authority (FCA).
Avoid retail banks, exchange bureaus and the post office
Using high street banks, exchange bureaus and post office can be a costly mistake, they cannot offer specialist guidance like a currency specialist that will help you to time it right. Also, currency brokers offer more favourable rates; saving up to 4%. For instance, if you're buying a property in Italy for €200,000, you could save up to €8,000.